In this article we will explain to you what is Let's Encrypt, and how to instal/uninstall Let's Encrypt plugin for WHM/cPanel.
Let's Encrypt is a free certificate authority provided by the Internet Security Research Group. The objective of it is to help achieve 100% encryption of the Web. It provides free standard and wildcard domain validation (DV) certificates that enable the website of encrypting its communications via HTTPS. The plugin process is simplified, automated and available globally.
Installing the Let's Encrypt Plugin for WHM / cPanel
First, Log in to the server as the root user, then run the following command:

				
					/usr/local/cpanel/scripts/install_lets_encrypt_autossl_provider
				
			
After that navigate to your WHM and go to WHM >> Home >> SSL/TLS >> Manage AutoSSL then choose the AutoSSL Providers.
Select the Let's Encrypt™ option. The interface will display the Terms of Service section.
Review Let's Encrypt's terms of service. If you agree, select the I agree to these terms of service option.
Click Save.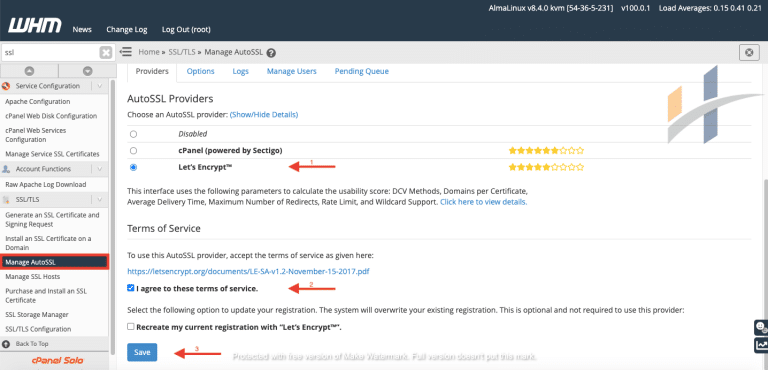 Disable and uninstall the Plugin in WHM / cPanel
Log in to the server as the root user, then run the following command:

				
					/usr/local/cpanel/scripts/uninstall_lets_encrypt_autossl_provider