In this article, we will show you how to determine the MySQL version installed on a server.  Using cPanel, phpMyAdmin, and command-line.
Determine The MySQL Version
Use whichever of the following methods you prefer.
1. Use cPanel: 
Log in to cPanel.
In the right sidebar, under GENERAL INFORMATION, click Server Information.
On the Server Information page, locate the MySQL Version row.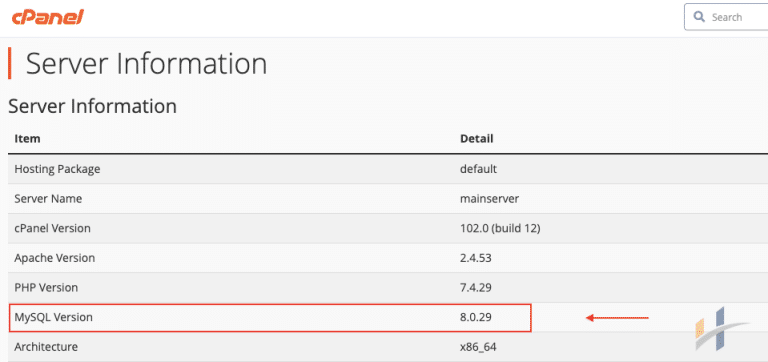 2. Use phpMyAdmin:
Log in to cPanel.
In the DATABASES section, click the phpMyAdmin icon.
After that, the phpMyAdmin page appears. In the Database server section appears the MySQL version.

3. Use the command line:
Log in to your account using SSH.
Type the following command:
To view more detailed MySQL version information, log in to MySQL using the MySQL program, and then type the following query:

				
					CopySHOW VARIABLES LIKE "%version%";

				
			
This shows detailed version information for MySQL, the database engine, the SSL library, and more.
For More information about the MySQL, please click Here