In this article we will show you how to add additional administrator account using your plesk control panel so you can manage your account easier.
Note
The additional administrator accounts are denied the following privileges:
To view and manage additional administrator accounts belonging to other users.
Viewing and managing administrator account settings.
Clear the Action Log.
How to Add New Plesk administrator account?
Simply follow these steps: 
Firstly Login to Plesk account as administrator.
Move to Tools & Settings > Under Security Group  then click Additional Administrator Accounts Link.

After that go to Additional Administrator Accounts Page and click

Add Administrator Account button, then fill the following fields:
Username : choose an unique username for the additional account.
Password : Enter a strong Password for the new username.
Confirm password :Re-type the password.
Email :Email address of the new administrator account.
Contact name: Real Name of the account.
Comments :Any description referring to the new account.

Finally click Ok Button.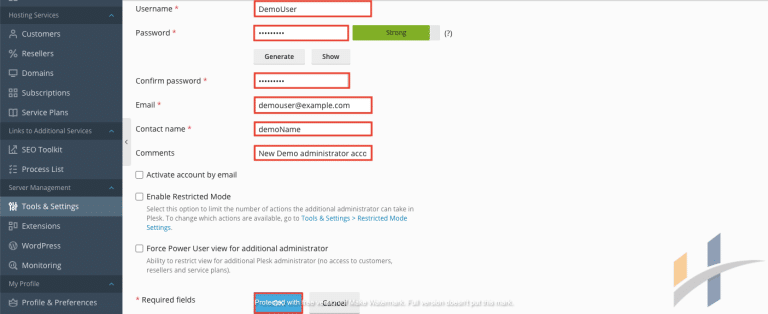 How to Delete /Suspend / Active the Additional Administrator Accounts?
Firstly login to Plesk account as administrator.
After that go to Tools & Settings > Under Security Group click Additional Administrator Accounts.
Then move to Additional Administrator Accounts list and check the account you want to make the action.
To Delete the account click Remove button.
If you want to  Suspend the account click More button and choose Suspend.
For activating  suspended account click more button and click Activate.