Steps to install SSL on Plesk
After you get the SSL certificate from the CA Certificate Authority, follow the steps below to complete the installation of SSL certificate on Plesk:
With a CSR generated on Plesk
Log in to your Plesk Panel.
Check for Websites & Domains tab and choose the domain you want to secure.
Choose the SSL/TLS Certificates option in the Security section.

Note
On the older versions of Plesk (up to Plesk 12.5) the corresponding menu option is called "Secure Your Sites" instead of "SSL/TLS Certificates".
You have to choose the SSL certificate that was created while generating the CSR code. It can be determine by the domain name.

After that in Upload Certificate Files section. Click on the 'Browse' button then locate both the certificate and the CA bundle files from your computer. The certificate file should have .crt extension while the Bundle one can be .crt or .ca-bundle. After both files are chosen, click on 'Send Files'. Otherwise, copy and paste the certificate along with the CA package into the corresponding boxes under upload the certificate as text and click on 'Send Text.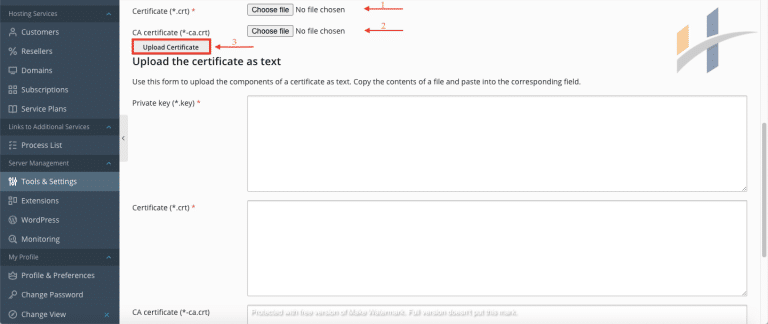 Go back to the Websites & Domains tab and click on 'Hosting settings' next to the domain in question.
Check for the Security section from the next page, choose the certificate from the drop-down list then ensure that 'SSL Support' is checked.
To save the changes, Click 'OK' at the bottom of the page.