In this article we will clarify to you about the cPanel optimize website tool. And How to Optimize Website tool using cPanel.
What Is cPanel Optimize Tool?
Using the cPanel Optimize Website feature enable you compressing your website content to improve its performance.
Consequently website takes less time in loading because the website's content will be compressed before being transferred to the user's browser.
In short, cPanel's Optimize Website feature makes your site visitors to have a slightly better and faster experience when browsing your website.
To clarify, interface of cPanel helps you to enable gzip compression. Apache allows you to compress the data before sending it to the browser and then web browser extracts the data and displays the webpage. All modern browsers support gzip compression.
What You Need To Use Optimize Website?
You need the two below things to use cPanel Optimize Website tool :
Ability to access your cPanel account .
mod_deflate Apache module enabled on hosting server .
How To Use cPanel Optimize Website Tool?
Login to your cPanel account.
Locate Software Section and click Optimize Website icon.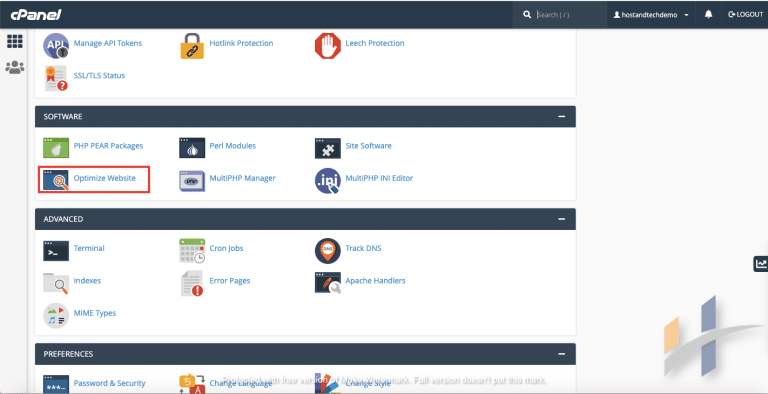 Go to Optimize Website Page and select compression option:

 Disabled: It's default selection and not perform any compression action.
Compress All Content: will compress all the content of your website.
Compress the specified MIME: types will let you choose what kind of content you need to compress.

After that from MIME types field you can specify what kind of files/content you want to compress. In addition enter the space separated list of the content that you wish to compress.
Finally click Update Settings button and you will get green message Website optimization preferences updated. Including information on what type you choose to compress.
Watch the tutorial below,
Note
cPanel saves your settings in an .htaccess file in your home directory. The system administrator customizes these settings using the Apache FileMatch directive.
In conclusion if you need to know more about tools, for instance tools that Improve Site's Traffic visit STS Host And Tech.